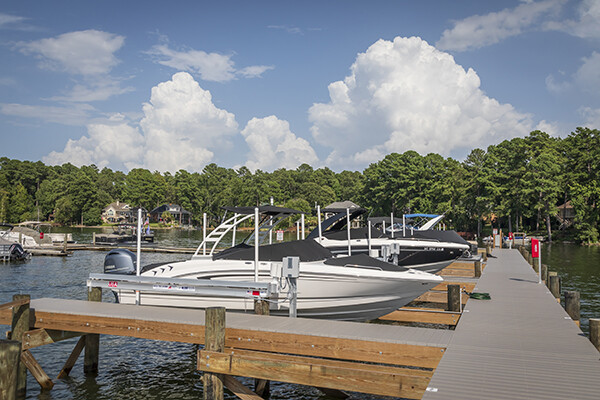 Top 5 Benefits Of A Boat Lift
If you've made the leap into investing in a better quality of life with a boat, you're hopefully prepared for some upfront costs. When you're on Lake Murray soaking up the sun with friends and family this Spring and summer, it will be clear that the expense was well worth it! The benefits of having a boat far outweigh the cost, but it's very important that you protect that investment. Keeping your boat on a LIFT will certainly help with that. Here are the top 5 benefits of a boat lift.
While keeping your new boat on a lift is only a small part of your overall boating expense, it can greatly reduce bottom-line costs by keeping it safe all year round. With a boat lift, you will have fewer repairs and far less maintenance on your watercraft. Plus, wouldn't it be awesome to get right on your boat, push a button and zoom away in without having to untie ropes and undo bumpers? Timberlake Marina currently has 6 brand new boat lifts available to lease.  Call us now 803 728 4413 or simply read on :)
Here are the Top 5 Benefits of a Boat Lift:
1.  Peace of Mind
As we mentioned above, untying a bunch of dock lines and boat bumpers every time you go out will be a thing in the past AND your boat will be protected in case of storms or high winds.  Even more importantly, you won't have to worry about your boat sinking at the dock. Additionally, a boat that is splashed around in water gets a lot of wear and tear; even a little damage to the hull can cause serious problems with your boat if you're not there in time to fix it. A failed bilge pump is a common problem that could lead to your boat sinking if it's in the water instead of above it.
2.  Prevents Damage to the Hull
We alluded to this above, but storing a boat in water is one of the main causes of damage below the water line and can contribute to many other problems that your boat encounters. Harsh weather conditions in which the water levels shift or where debris is present can cause a lot of stress on your boat and shortens its life, not to mention, boats kept in the water are more susceptible to hull blisters and other damages to props and shafts. You can actually see the difference in the condition of traditional wet-stored watercraft versus those kept on a boat lift. Whether it's from wind, storms, or debris; the wear and tear that builds up could mean costly repairs or losing your boat altogether.  A boat lift could greatly diminish damages and effectively prolong the life of your boat.
3.  Prevents Corrosion and Algae
Algae is a very big concern if you keep your boat in the water. It will start to collect on the exterior of the boat, resulting in layers of moist scum and residue that takes time and effort to remove. Corrosion can also occur and lead to leaks if you're not careful. Keeping your boat above the water creates an environment in which algae will not grow and corrosion can be avoided, meaning you will not have to waste time scrubbing algae off or getting a new paint job.
4.  Saves You Money Now and in the Future

Damages caused by wear and tear or corrosion can get expensive. Therefore, a boat lift can save you money over the years by not having to do as many repairs and routine maintenance adjustments.  Additionally, having a clean boat bottom means that you can also:
Improve performance

Increase range

Save fuel

Reduce gas mileage

Eliminate the recurring cost of painting the underside

Have a boat that looks as good as the day you bought it
5,  Ensures Quicker, Easier, Safer Boarding
This could be extremely important for many people – especially if you have a Pontoon Boat and want to have parties with several people.   If you keep your boat in the water, whether you have a front mount or side mount, the changing water levels and lack of stability of a floating boat could make it a little precarious to get on and off (especially if your party includes alcohol).  Having your boat on a lift means you're right at dock level and there's no movement involved when you board.  Finally, with the easy turn of a handle or flip of a switch, you can be ready to go in no time, which means more time out on the open water enjoying the day with friends and family!
So there you have it!  The top 5 benefits of a boat lift will hopefully help you make the decision to CALL to LEASE your brand new boat lift slip at Timberlake Marina.  Stop towing and start GOING!  We'd love to have you in the Timberlake Marina family.
See also Lake Murray – Perfect Place To Go Fish and Many Benefits Of A Pontoon Boat